About SIRA School of Real Estate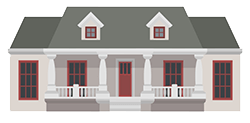 The Southern Indiana REALTORS® Association is home to over 1,100 agents and affiliate members in Clark, Crawford, Floyd, Harrison, Orange and Scott counties. Our new School of Real Estate enhances our commitment to the community by providing comprehensive instruction to those wanting to begin a career in the real estate industry. We pride ourselves on providing the best possible foundation for new students to obtain their Indiana real estate licenses.
SIRA School Policies
Refund Policy
No refunds are available once you are registered for a class.
Repeat/Retake Policy
If you do not pass the course, there will be a $250.00 fee to attend another class. The course must be repeated within a year of the starting date of the original course.
Please call SIRA for more information on the process for a class retake.
Click here for Class Retake Registration
Weather Policy
Any class that is cancelled due to inclement weather conditions will be postponed for a later date.
Class status is available on the SIRA School of Real Estate home page. Any cancellations will be posted there if needed.
If a class is cancelled, you will also be notified via email or text message.